The Starke Chain Sling can handle all of your lifting needs with a working load limit of 3,500 lbs (⁹/₃₂" chain) and 7,100 lbs (⅜" chain). Grade 80. 
The Starke Chain Sling is fully customizable to your needs. You'll get a chain sling that's made for you, all at an affordable price.
Step One: Choose your chain thickness. The Starke Chain Sling comes in either a 9/32" thickness (3,500 lb Capacity) or a ⅜" thickness (7,100 lb Capacity). The chain is Grade 80.
Step Two: Choose the number of legs you want and the length of chain.
Step Three: Pick if you want a Sling Hook or a Grab Hook.
Step Four: Choose if you would like to add a chain adjuster or not.
Step Five: Submit your order and you'll have your fully custom chain sling delivered to you shortly. 
This chain sling is compatible with all Hoist Zone hoists. 
Hoist Zone makes it easy to order replacement parts. Contact (574) 742-1185 if you need help.
To learn more about Starke, visit starkeamerica.com. 
1 Leg
Capacity/WLL at 90°

9/32″

3,500 lbs

3/8″

7,100 lbs
WLL refers to the Working Load Limit. This term has replaced SWL.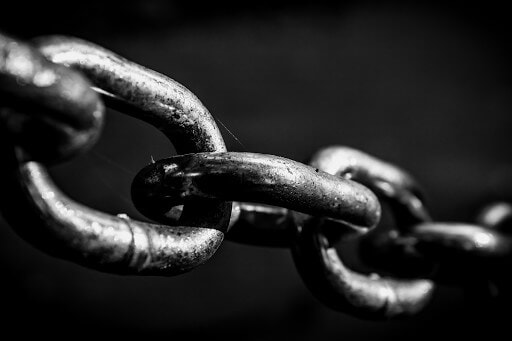 2 Legs
3 Legs
4 Legs
What's the difference between a Sling Hook and a Grab Hook?
Hoist Zone offers two different hook styles when you buy a Starke Chain Sling. You can either choose the grab hook or the sling hook. The hook style that is right for you depends on the application. If you are looking for a more economical hook that is specifically designed for chain rigging, then you should choose the grab hook. However, if you will be using a variety of chains, slings, and straps to do your lifting; then the sling hook would be your best option. The sling hook also comes with a built in safety latch to ensure an optimal lift.
How are chain slings measured?
How often should I perform a hook inspection?
In order to ensure your safety, the ASME requires hooks to be periodically inspected once a month. If a professional recommends even more often, then this supersedes the periodic monthly inspection.
How do I perform a hook inspection?
Examine hooks for the following:
Missing or illegible hook manufacturer's identification or secondary manufacturer's identification
Missing or illegible rated load identification
Excessive pitting or corrosion
Cracks, nicks, or gouges
Wear—any wear exceeding 10% (or as recommended by the manufacturer) of the original section dimension of the hook or its load pin
Deformation—any visible apparent bend or twist from the plane of the unbent hook
Throat opening—any distortion causing an increase in throat opening of 5% not to exceed 1/4″ (6mm), or as recommended by the manufacturer
Inability to lock—any self-locking hook that does not lock
Inoperative latch (if provided)—any damaged latch or malfunctioning latch that not close the hook's throat
Damaged, missing, or malfunctioning hook attachment and securing means
Thread wear, damage, or corrosion
Evidence of heat exposure or unauthorized welding
Evidence of unauthorized alterations such as drilling, machining, grinding, or other modifications
If signs of any of those listed above are visually apparent, then use of said hook is mandated to be out of service until proper repair by qualified personnel has been performed.